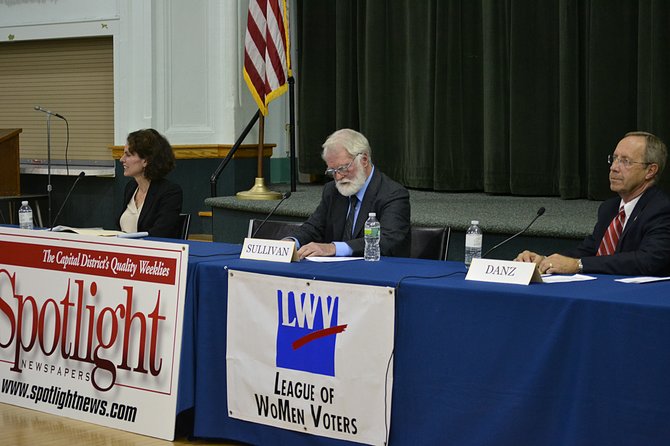 ALBANY COUNTY — State government's effect on local municipalities came up again and again in a recent debate between candidates in the 109th Assembly District.
The Thursday, Nov. 1, forum sponsored by Spotlight Newspaper and the Albany League of Women at Bethlehem's Town Hall was to be the last time Democratic candidate Patricia Fahy, Republican Ted Danz and Conservative candidate Joseph Sullivan met before Election Day. Voters went to the polls Tuesday, Nov. 6, after The Spotlight went to press. Visit spotlightnews.com for full coverage.
The newly redrawn district encompasses the southwestern parts of the City of Albany and the towns of Guilderland, New Scotland and Bethlehem. Candidates are vying to replace retiring Assemblyman Jack McEneny.
During the hour-long forum, candidates were asked questions submitted by the audience. The answers to many came back to mandate relief and the topic of education. Fahy is the former President of the Albany City School Board.
"Mandate trickle down is causing testing fatigue in students," said Fahy, who added she does not support Gov. Andrew Cuomo's new teacher evaluation system.
Sullivan said local districts need control over the curriculum to support education and said teaching to standardized tests should be ended.
"The government needs to stay out of education," he said.
Danz is the founder of Danz Family Heating in Guilderland, while Sullivan is a U.S. Navy veteran living in the City of Albany.
Fahy said cutbacks at the federal and state level are resulting in an increase of mandates at the local level that are non-sustainable. Danz agreed, adding that mandates are crushing county governments, who should be able to have greater control over their pension system and medical benefits.
No candidate said they would foresee voting for a tuition increase in the state university system. Fahy said she would fight to help students struggling to attend college to find additional resources, while Danz called the SUNY system "the jewel of New York state." Sullivan said he feels too many people are attending college today who do not belong there, and said more support should be given to trade programs, something Fahy agreed with.
(Continued on Next Page)
Prev Next
Vote on this Story by clicking on the Icon