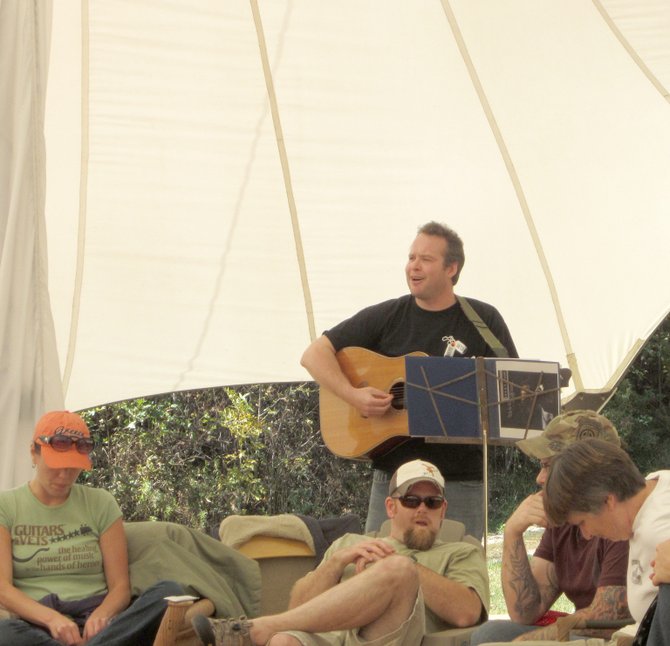 continued — "I just traveled to anywhere people would take me," he said. "I'd travel out on half a tank of gas and get there on fumes."
Earlier this year, Moon established a nonprofit called Warrior Songs, whose slogan is "Healing Vets Through Music." But that's only part of the equation; Moon also tries to help civilians understand how they can help people suffering from PSTD.
Don't judge, he said. Don't ask questions like "What was it like over there?" or "Did you kill anyone?"
Instead, listen. If you're going to offer help, make sure you can follow through.
"If the phone rings and you can't do it, it will probably be the last time the phone rings," Moon said.
Moon spreads his message through 90-minute concerts. He has one scheduled at Christ Community Reformed Church in Clifton Park on Veterans Day, Sunday, Nov. 11, from 4 to 5:30 p.m. He encourages people to come out for a free show that's educational as well as entertaining. He's also tentatively scheduled to be at WAMC's The Linda in Albany on Thursday, Nov. 15, at 7 p.m., to perform after a screening of the documentary "On the Bridge."
Four years removed from his suicide attempt, Moon still has his rough days. Sometimes a thought creeps into his mind: "You should just end it. Kill yourself." He pushes it aside. He goes for a walk or tries to lose himself in a video game.
He knows he'll never reclaim his innocence. But he's found something else in his work: purpose.
For more information, visit www.warriorsongs.org.
Vote on this Story by clicking on the Icon