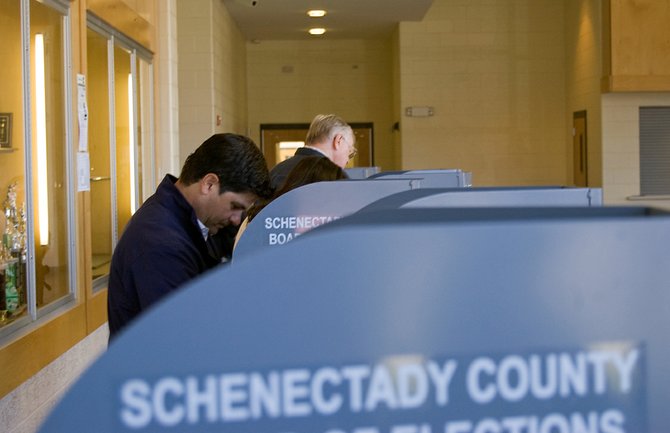 continued — "I am so proud of my campaign team," Amedore said.
Amedore said his focus is getting "government off our backs and out of our pockets." Creating a confidence in the private sector, he said, is important to create jobs in the region. He said investing in education would also help businesses to have their workforces come from local talent.
Amedore said his experience as a small business owner sets himself apart from Tkaczyk. Amedore said for five years he has also worked in a bipartisan manner with fellow state legislators.
Tkaczyk said her message was what voters wanted to hear and they wanted someone who would fight for issues important to them. She said the election results show, despite the district being crafted for Amedore's bid, her message ran true.
"It says voters want government to work for the people, not big donors and special interests," Tkaczyk said.
The campaign became more heated as Election Day neared, with advertisements from political action committees dealing the harshest words about each candidate. Each candidate pointed to campaign contributions as points of contention.
Tkaczyk said she stood behind her campaign and pointed out Amedore's voting record and statements.
Amedore's strongest support was in Montgomery County, which he currently represents in his Assembly district. Amedore held 10,178 votes and Tkaczyk trailed with 5,842 votes. Amedore also took the majority of votes in Schenectady County, with 59 percent of the vote, and in Greene County he had a lead of almost 3,000 votes.
Tkaczyk received overwhelming support in Ulster County with 22,800 votes and Amedore garnered around 14,600 votes. Tkaczyk also prevailed in Albany County with around 15,300 votes, or 54 percent of the total.
Vote on this Story by clicking on the Icon