BETHLEHEM — After a close Democratic primary race for Bethlehem Town Board, Bill Reinhardt has won the general election with a significant lead over his opponents.
Reinhardt beat Republican candidate Jeremy Martelle 8,532 votes to 5,760 votes. Former Supervisor Jack Cunningham, who ran against Reinhardt in the primary, stayed on the ballot as an Independent candidate but did not campaign past the primary. He came in third with 1,762 votes.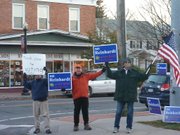 "I think we ran a positive campaign," said Reinhardt. "We spoke about the approach we wanted to take and what we wanted to accomplish, and I think voters responded to that."
Reinhardt ran in September as a member of the Bethlehem Reform Democrat movement, which also fielded a number of candidates for the town Democratic Committee. The movement was formed in April by several residents claiming to be frustrated with how the committee functioned and who wanted it to become more inclusive.
The movement won 25 committee seats in September, leading to the election of a new Town Democratic Committee chairman.
"I am supremely appreciative of all the help I got from all of the folks who helped me," Reinhardt said. "This was a a real team effort and not something I could do on my own. I feel humbled by the outpouring of support from the voters."
Reinhardt will be filling the seat currently held by George Lenhardt, who was appointed. The seat was left vacant after Mark Jordan won his bid for town justice and left the Town Board at the beginning of the year. This means Reinhardt will hold the position for just one year.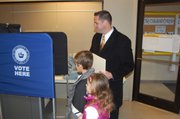 Martelle said he "would entertain the idea of running again."
"I think our message is a good message," he said. "Being a fiscal conservative, our town needs that. An 8 percent tax increase does not benefit anybody, and I would consider running next year."
(Continued on Next Page)
Prev Next
Vote on this Story by clicking on the Icon