continued — Woodruff said her favorite character to write was Maura's mother, Margaret.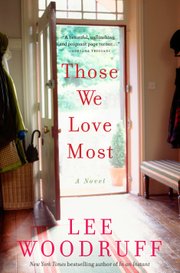 "She's the heart and soul of the whole family and has to be the one to hold it together after the accident," she said. "She's part of the generation that wants to put one foot in front of the other, and move on with life. There's a lot of whining now, but there are times you just have to put your shoulder into it to make it work."
The book explores the perspectives of two generations between Maura and Margaret. Woodruff said anyone who is a parent can relate to the book. She also believes "Those We Love Most" would make a good book club selection because there are lots of nuances to discuss about family, marriage, personal growth and the value of relationships.
Woodruff will speak about all three of her books at a local event at the Schenectady County Public Library. She will also talk briefly about the family's nonprofit, The Bob Woodruff Foundation, a grant organization that provides support and resources to service members who have been injured, along with their families. A book signing will be held after the event.
"I'll cover what we went through as a family and then our transition. It's an event that brought us closer together, and I might not have written this book if it hadn't been for that," Woodruff said.
Woodruff's discussion will take place on Saturday, Nov. 10 at 2 p.m. at the library's main branch at 99 Clinton St. in Schenectady. To learn more about the book, visit leewoodruff.com. To learn more about The Bob Woodruff Foundation, visit remind.org.
Vote on this Story by clicking on the Icon