continued — "We were joking it was like liquid gold," Potter said. "It's the little things we take for granted."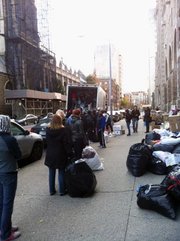 Fuel became a prized commodity in the wake of the storm, and Potter witnessed long lines at gas stations firsthand on his drive down.
Gov. Andrew Cuomo on Sunday, Nov. 3, said 8 million gallons of gasoline were set for delivery and more than 28 million gallons would be arriving over the coming days. AAA on Monday, Nov. 5, estimated 60 to 65 percent of gas stations in New York City were operational, with 50 to 55 percent in Long Island ready for business.
Glenville resident Tina Mirabile also saw the damage firsthand. The business Mirabile co-owns with Bruno Lopez is located in the Red Hook neighborhood of Brooklyn.
Their store, Atelier de France, is on the fourth floor in a building housing several businesses and it escaped flood damage due to its position above the street. Mirabile prepared the store as best she could before the storm hit and evacuated, but she said some were still in their homes when 12-foot waves crashed into the area.
"We buttoned up the shop and high tailed it out of there," she said.
On Halloween, she headed back down to the city to see the damage and how others were faring in the area. Many people were still not traveling in cars yet, so she said getting into the city wasn't too difficult. Now, the community is trying to return to normal.
"It is really a wonderful and strong community," she said. "They are really determined to bring everything back."
Before heading back down again, she wants to fill a 17-foot U-Haul truck with as many supplies as possible from local donations.
The items being requested are non-perishable foods, canned goods, water, baby food, baby wipes, feminine products, blankets and sheets, batteries, candles and even pet food. Clothes are not needed.
Vote on this Story by clicking on the Icon