continued — From Wednesday, Nov. 7, to Friday, Nov. 9, the truck will be at the parking lot at BJ's in Rotterdam. A second drop-off location is at Route 50 Storage, located at 736 Saratoga Road in Burnt Hills, from 8:30 a.m. to 3:30 p.m., during the same three days.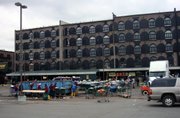 "As good as the Red Cross is and all the other organizations are, they are not always able to pinpoint a particular area," Mirabile said. "We wanted to really do something for our community and our neighbors."
If you are unable to make it to the drop-off dates and are interested in helping out the Red Hook neighborhood, you can visit restoreredhook.org or redhook.recovers.org to make a donation.
Other collection points have sprung up around the area. Fogg's Automotive & Suzuki has partnered with St. Jacobi Church and the Church of St. Luke & St. Matthew in Brooklyn and is serving as a donation dropoff point.
People are asked to donate baby supplies, cleaning supplies, clothing, non-perishable food items or any other household goods at its store, located on 642 Saratoga Road in Scotia. Donations will be accepted at the store until Friday, Nov. 16.
Vote on this Story by clicking on the Icon