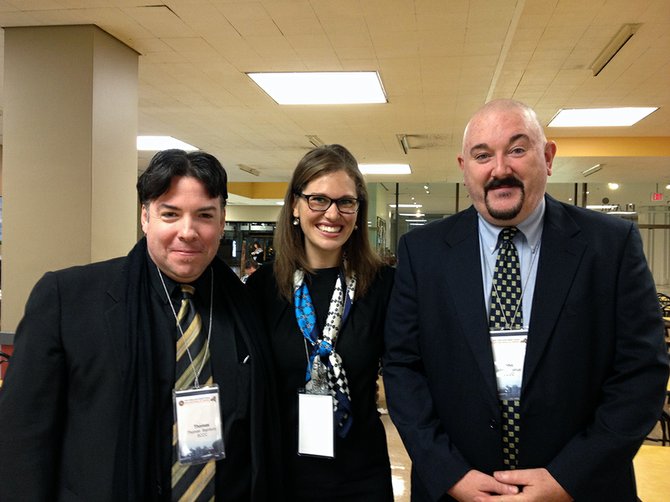 ALBANY — Gov. Andrew Cuomo for the first time invited SUNY students to participate in the state Minority and Women Business Enterprises Forum, and some local students got a ticket.
Schenectady County Community College sent five students to the MWBE forum held on the weekend of Oct. 26 at the Empire State Plaza Convention Center's Hart Theatre. The students attending were Student Trustee Thomas Bambury, Student Government President John Donahue, Jason Bunn, Donald Simon and Fannon Herbert. SCCC Student Activities Advisor Chris Delvecchio also attended the event.
"This was a great opportunity for SCCC students," Denise Murphy McGraw, chairwoman of the college's Board of Trustees, said in a statement. "Events like these help students plan for the future and give them access to top business leaders and decision makers, while also serving as a positive representation of the SCCC community."
Throughout the forum, students had the chance to participate and listen to a number of panel discussions. Through panel sessions and networking, students were able to meet with the state's leading decision makers in the public and private sector.
SUNY State Relations Director Simeon Banister told students that Cuomo understands the potential students have to be leaders.
"You are the MWBE leaders of tomorrow and he wants to invest in your promise by introducing you to the business owners, vendors, agency representatives and others who make up the MWBE community," Banister said.
The forum stems from an executive order Cuomo signed after taking office to expand minority and women businesses throughout the state.
"I have discovered there have been some really great strides that have been made since his initial order," Bambury said. "It really made me truly believe that when we are given a huge task and huge goal by the governor that when reach across the board, success can certainly happen."
He said students often wonder what opportunities are available for them after leaving college. The forum helped strengthen his hope that the economy will continue to grow and create more jobs in budding industries.
Vote on this Story by clicking on the Icon