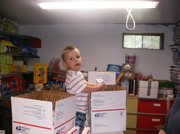 continued — One year, Weaver said the club received 60 boxes of Halloween candy from the district's elementary schools and another 40 to 50 boxes full of food, supplies and toiletries to send to MMA.
Buckley said schools like Shaker donating their candy and other goods is always helpful.
"I think it's great. It helps get the community involved, too. That's important," Buckley said.
Other fundraising standbys include asking for donations at Sam's Club. The Native American Pow Wow in East Greenbush will be raising money for MMA this year.
Buckley has a full-time job and now eight grandchildren, and admits that sometimes she gets overwhelmed and exhausted from running MMA. Yet the overflow of thank you letters and emails from soldiers keeps her going.
"There are times we get to the point where it's like, 'I can't do this anymore.' You just sometimes want a break. (Then) you get that letter or email and it gives you that kick in the butt that says, 'Hello! They're still serving our country over there.' I feel selfish that I want a break where day by day they're looking for a pick-me-up," Buckley said. "They love knowing that the American people are still supporting them."
Buckley also likes to add a letter in each package, often just talking about her own family, the weather or how some of the volunteers have been helping.
Terry Matthews, who was deployed in Kuwait from 1998-2001, used to receive care packages from his mother full of Pepsi and chocolate chip cookies. Matthews will be celebrating the one-year anniversary of the opening of his Troy restaurant, The Brown Bag, on Saturday, Nov. 10, and asked Buckley to come to try to raise money for MMA. He had met Buckley when she was tabling at Sam's Club and remembered how wonderful it was to receive packages from his mom.
"It's a huge morale booster," Matthews said. "It gives the service men and women a little taste of home."
To volunteer or donate to MMA, visit militarymominaction.org.
Vote on this Story by clicking on the Icon