SCHENECTADY — Students of Schenectady's Brown School did more than just learn about Veterans Day — they thanked vets for their service face to face.
Students of the private school gathered to sing songs and show off special projects to local veterans at a Veterans Day ceremony on Friday, Nov. 9. It is becoming a tradition at the school, but this year's event hit close to home for English teacher Annu Subramanian, whose son, Darshan, is scheduled to deploy to Afghanistan.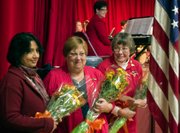 The event also marked Subramanian officially joining Blue Star Mothers, which is an organization of the mothers of service members that provides support for veterans and their families.
"It is a very special day for us," Subramanian said. "It is a very special day for Brown, which comes together as family. Students start practicing songs … way back in September from the first day of school and they take a lot of pride in the soldiers who have served and who are still serving."
Darshan Subramanian, a 1st lieutenant in the Air Force, said he always wanted to be a pilot and was moved to enter the service after 9/11.
"I found a way to do both and became a pilot in the Air Force," he said in a statement. "I felt it was my responsibility to help out so that future generations, perhaps my own children, can enjoy the privileges that I enjoyed."
Annu Subramanian said her family was "very worried" when they first heard her son was scheduled for deployment.
"Although you might expect it, it is not easy to take in," she said. "The Brown School community's prayers and friend's prayers will help him come through."
Dina Astemborski, a member of Blue Star Mothers, went through a similar experience when her son was deployed to Afghanistan.
"It was a very fulfilling year for him, but very trying at the same time," Astemborski said. "It is a lot of stress and worry on the family, but in a good way."
(Continued on Next Page)
Prev Next
Vote on this Story by clicking on the Icon