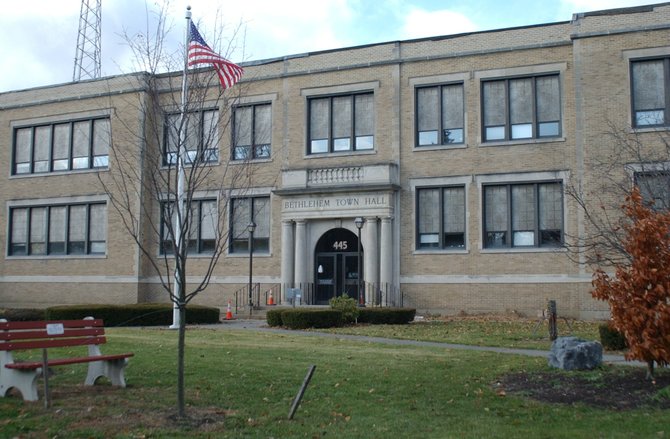 BETHLEHEM — After weeks of discussions and public meetings, the Bethlehem Town Board passed unchanged a 2013 budget proposed by Supervisor John Clarkson.
The budget passed in a 3-2 vote on Wednesday, Nov. 14, with Town Board members Kyle Kotary and Joann Dawson dissenting. Both said they did not agree with increasing the tax levy by 8 percent, saying residents are already struggling.
"I think there's a perception, especially since no one came to speak at the public hearing, that there's a perception that this increase is tolerable and OK," said Dawson. "I don't agree and I couldn't vote for it."
Development of the $37.9 million spending plan hinged on closing a roughly $3.5 million budget gap. The property tax levy will go up by 8 percent and spending was cut by 1.8 percent. The budget also includes a 7 percent decrease in staffing through attrition with the loss of 16 positions.
The gap is due mainly to the loss of a 20-year Payment in Lieu of Taxes (PILOT) agreement with the Selkirk Cogen natural gas plant worth $1.7 million. The older contract was allowing the town to essentially receive the share of payments meant to go to Albany County and the Ravena-Coeymans-Selkirk Central School District. Those two municipalities will now receive their full shares.
Clarkson said he was disappointed some members of the board believed the tax increase was too high because he felt the plan was economically responsible and well balanced. Under the state tax cap law formula, the town could have raised property taxes as much as 19 percent to make up for the PILOT loss.
Cuts include not funding the Colonial Acres Golf Course, reducing operation days at the compost facility and transfer station, reducing staff hours for the Parks and Recreation Department and increasing field fees to offset maintenance costs. The town's Planning Board will also be cut from seven members to five and the town will expand the Lockbox service to more tax collection duties. Those cuts were said to save roughly $150,000.
(Continued on Next Page)
Prev Next
Vote on this Story by clicking on the Icon