NISKAYUNA — Before any blockbuster can grace the silver screen, it first has to make it on the laptop screen.
Screenwriters are the unsung heroes of most any big-screen success story. But for "The Place Beyond the Pines," whose 2011 filming thrust Schenectady momentarily into the Hollywood limelight, there wouldn't have been much local fuss about the production had it not been for co-writer Ben Coccio.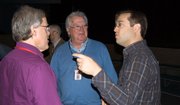 The Niskayuna native was instrumental in bringing the production to the Electric City, and the Niskayuna native recently returned to his alma matter to offer budding filmmakers an insider's view on the business of the silver screen. Coccio also shared how his interest in filmmaking grew from his experiences at Niskayuna High School. Long before online video sharing services exploded, he was capturing his imagination from behind the lens.
The early days
The technology around video production has changed a lot from when Coccio was in high school. The member of the Class of '93 said the art department was really well developed at Niskayuna, which is how he got into film.
"We had VHS cameras … and that is all we had," he said. "To make our movies we had to take two VCRs and we would play one and record on the other. That is how we would edit our movies together."
Since there weren't any popular online hubs yet, he would share the video made with friends on public access, which was SACC-TV locally before Proctors took over operation a few years ago. Instead of posting comments online, people called to complain.
After graduating from the Rhode Island School of Design in 1997, Coccio knew he wanted to continue making movies. He set off with a friend and made the movie "5:45 A.M." using 35mm film.
Now, films can be shot on a moderate budget, he said, but in the late '90s making a professional quality movie was expensive. He was able to purchase a camera for $50 and purchased a bunch of "short ends," the leftover 35mm film larger productions would toss out.
(Continued on Next Page)
Prev Next
Vote on this Story by clicking on the Icon