continued — The movie, released in 2000, ended up being purchased by the Independent Film Channel. Smaller theaters played the movie and it ran through prominent film festivals before IFC bought it.
"Nowadays they do not buy short films, no one does, because there is no need," he said. "You can go see them online, for free basically, from whoever made them."
Building up a rep
From the simple beginnings of "5:45 A.M." Coccio went on to make a name for himself by tackling a dodgy subject on a tight budget.
"(Columbine) made a big impression on me and I started thinking about how I'd like to make a movie about that," he said.
His initial vision for the movie was for a big-budget epic, a dream that had to be sidelined as he waited for connections to grow. But after a car accident that nearly took Coccio's life, he changed his mind about the grand scope.
"It kind of occurred to me that if I was going to do something I should do it now and try to figure out some way to do it," he said.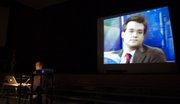 He started researching Columbine and realized the shooters would "psych themselves" by making video dairies. He thought a simple "Blair Witch" style approach, might tell a powerful story. Connecticut high school students who resembled the killers were cast as the two main characters and students filled other roles. The majority of the film is shown through video dairies of the main characters. The result was "Zero Day," which captured considerable attention.
"It wasn't a big production, it was me, two kids and a video camera for most of it," he said.
The movie, released in September 2003, garnered mostly positive reviews, but some audience members were troubled by the subject matter.
The "John Walsh Show" invited him to attend, and Coccio defended his movie as a Columbine survivor grilled him about it. He knew he would be portrayed as the "bad guy," but he wanted to defend his movie.
Vote on this Story by clicking on the Icon