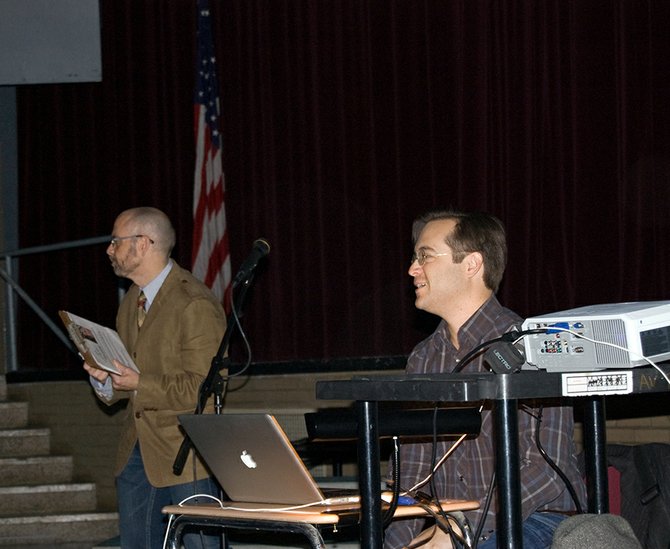 continued — "If I couldn't defend what I had done the actually they would be right and I would be doing it for the wrong reasons," he said.
Being on the show shook him, but he said it was a good learning experience for him. Ultimately, he said he made the movie for people who were not involved in Columbine, so people could make sense of what happened.
Getting started
Coccio said there are many different ways students can go about getting into the film industry, whether it is through college or working at a film company. Some of the "lowest level" production jobs aren't difficult to secure and can help build connections.
"I think there is a lot of different ways to get where you want to go," Coccio said.
Resolving creative differences is important, too, especially if someone has hired you to write a script for them, such as with "The Place Beyond the Pines."
"You have to open to the idea that you might not have the best ideas," he said. "Even when you make a movie totally independently … it is still an intensively collaborative media and that is the thing that makes it strong."
He credited his experiences at Niskayuna High School for helping lay the groundwork for his career.
"Going to your high school is quite intimidating," he added.
Peter Warren, a social studies teacher at the high school, knew Coccio and his brother when they were both students. Warren said he thought Coccio would be successful in whatever he pursued, because he was a hardworking, intelligent student.
"I thought that both of them would make an impact," he said.
Seeing Coccio come back and talk to students was a great experience for Warren.
"I am so proud of him and I was thrilled to hear about the bi- time movie," Warren said.
Hearing that Coccio fought to film "Pines" in Schenectady impressed Warren, too.
"I'm sure that was a struggle," Warren said. "The fact that he really plugged for that meant so much to the local economy and I am sure it is going to be interesting … to see Schenectady in film as a setting."
Vote on this Story by clicking on the Icon