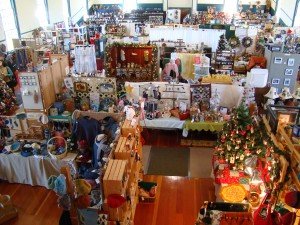 D'Angelo said a hot item with shoppers, and with her personally, are wool mittens.
"We can't keep them in stock," she said. "You won't find anything like them."
"We also have a weaver who has been here for years – her shawls and purses are in very high demand," D'Angelo added.
Porter said it makes her feel good to know she is supporting the community by buying local.
D'Angelo said she finds a lot of people want to keep their money in the community, and the craft fair offers an easy opportunity to do just that.
"You are supporting a local small business owner, helping to support the preservation, and getting something unique," she said.
The Shaker Christmas Craft Fair is open Monday through Saturday, 10 a.m. to 4 p.m. now through Dec. 15, at the Shaker Historic Site adjacent to the Albany International Airport off of Heritage Lane. Admission is free. For more information visit www.shakerheritage.org or call 456-7890.
Vote on this Story by clicking on the Icon