COLONIE — The day after her father died, Loretta Fantroy's then-88-year-old mother moved into her Albany home. She was weak, thin and wouldn't speak to anyone.
"We really thought we were losing her before my dad," Fantroy said. "Basically … her problem was she missed that socialization. She has always been a socialite. It was being suppressed by her staying at home, looking out the window, not talking to anyone. She was just sitting there deteriorating."
Although she was looking after her mother, Fantroy was juggling having a full-time job. She took her mother, Henrietta, to a medical facility, but knew she needed to be at a socializing program instead. She heard about Bright Horizons, an adult day program through the Colonie Senior Service Centers, Inc. that helps seniors with cognitive impairment to socialize and participate in activities.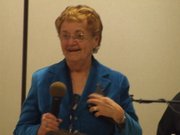 "She got into Bright Horizons … (now) she talks on the phone. She holds a conversation. She can do crafts," Fantroy said. "They have done tremendous work to help her and helping to strengthen her mind."
On Tuesday, Nov. 20, Bright Horizons members and staff had the opportunity to thank caregivers like Fantroy at the annual "Thanks for Caregiving" event at the Belltrone Living Center off Wolf Road in Colonie. Bright Horizons staff members took the time right before the Thanksgiving holiday to thank family members for being partners in the caregiving journey, with speeches, a slideshow and food. Families were also given a Thanksgiving pie at the end of the event.
"This is a special time for us to say thank you for the honor of allowing us to spend time with your loved ones," Director of Bright Horizons Kristin Vivian said. "They teach us so many life lessons each and every day. It's really our privilege to be with your family members every day."
(Continued on Next Page)
Prev Next
Vote on this Story by clicking on the Icon