continued — "When you get in front of 15 people, you really have to show them in 30-45 seconds what you have," Lisa Franklin, George's mother and vocal teacher from The Vocal Studio of Lisa Franklin, said. "It's literally how you say 'hello,' how you stand. The singing is really important, but it's also your whole presence."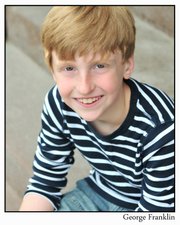 Lisa Franklin has trained both her son and Mastrianni for many years. She said both boys "really earned it."
The boys had gone to a workshop in the city and were lucky to gain a connection to the musical's choreographer through the unrelated workshop. One thing led to another, and both boys were able to land auditions with five separate callbacks until they made the show.
"I think it's the most amazing opportunity that any child could have. Their confidence level … is gonna shoot right up. They are basically gonna be stars for the next three to fourth months," she said.
Because of the difficulty of actually getting an audition in the first place, both boys will now be a part of the Actors' Equity Association, and it will "allow them to audition for any Broadway show after this," Lisa Franklin said.
Although George Franklin, a seventh-grader at Shaker Junior High, and Mastrianni, an eighth-grader at Bethlehem Middle School, will be taking a break from school, they will be tutored by a company that works with Broadway children.
Tony Rivera, the managing director of Cohoes Music Hall, watched both boys grow up for years. He said there is a great support system in the Capital District, especially with parents who've had their kids on Broadway before. Some of Lisa Franklin's other students have also been sent to Broadway, including Christopher Flaim from "Mary Poppins" and Jacob Clemente, who played the lead role in "Billy Elliot."
Although Rivera said it will be challenging, he believes both boys have landed an "incredible opportunity."
"I believe they can be great in this career," Rivera said. "This is a really great age for them to work professionally."
Both actors said their ultimate goal is to stay on Broadway.
"This is what I really want to do for the rest of my life," Mastrianni said. "I love it so much."
Vote on this Story by clicking on the Icon