There are no stars on the Niskayuna boys soccer team – just a group of talented players looking to turn things around after a sub-.500 finish in 2011.
The mission has gone well so far. The Silver Warriors (6-2-1) are tied with Shaker for second place in the highly-competitive Suburban Council North Division with nine standings points and recently rattled off six consecutive wins.
Photo Gallery
Niskayuna vs. Shaker Sept. 27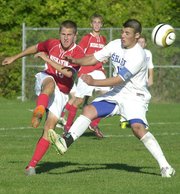 The Niskayuna boys soccer team traveled to Latham Sept. 27 to face Suburban Council North Division rival Shaker. An Alec Hay goal midway through the first overtime period gave the Silver Warriors a 1-0 win. Photos by Rob Jonas
"Last year, we couldn't get the bounces or make the plays when we needed to," said Niskayuna coach Joe Carosella. "This year … we've got a lot of smart guys who play as a team."
The Silver Warriors don't score a lot of goals, but they also don't allow a lot of goals. They have five shutouts and outscored their opponents 13-6 in their first nine games. Nine players have scored goals, but only three – Brendan Griffiths, Christian Koudal and Scott Fishel – have multiple goals.
Alec Hay became the ninth Niskayuna player to score a goal when he tallied the game winner in last Thursday's 1-0 overtime victory over Shaker (5-4-1) in Latham. The sophomore midfielder converted a Bobby Chapman cross less than four minutes into the first 10-minute overtime period.
"I was so excited," said Hay. "I'm so happy I even got to play. The fact that the ball just popped out (to me), I was just happy to finish it."
"That's the reason he was in the game at the end," said Carosella. "He may be a sophomore, but he has great composure out there."
Niskayuna has stumbled since last Thursday's victory over Shaker. Paulino Curto's goal late in the second half helped Colonie (2-6-2) pull out a 1-1 tie against the Silver Warriors last Saturday, and Bethlehem (8-0-2) defated Niskayuna 2-0 Tuesday on first-half goals from Matt Henning and Ethan Gunty.
(Continued on Next Page)
Prev Next
Vote on this Story by clicking on the Icon