continued — This fall, leaf peepers might need to plan their trips more selectively.
"Tourists are going to have be traveling and selecting more carefully where they are going to be," Niklas said.
Where to see the colors
The Empire State Development's I love New York program's weekly Fall Foliage Report could prove to be a valuable resource for such excursions. The report details what areas are best for viewing colorful leaves during that week and gives an overview of foliage change across the state.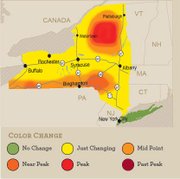 "Our job with the reports is to point people in the direction of where the color is best for whatever particular week the report is for and to let them know what colors are out there," Scheffel said. "It's pretty much just a way of being able to look and point where the action is as far as color change goes.
There are around 65 foliage spotters sending in reports Monday and Tuesday, which are then compiled for a report on Wednesday, Scheffel said. The reports have been around for several years but were mainly shared through media outlets or over the phone. Now, people can view each week's report online at iloveny.com/fall, where the current report is posted.
"There are a lot of people who are very intent on following the leaves each year," Scheffel said. "We have a fairly large audience of foliage fans."
The dry and hot summer lead some people to wonder if the "leaves would burn off" or turn early, but Scheffel said the majority of foliage is on or slightly ahead of schedule. He said there were pockets turning early in late August and early September, but those appeared to be "stressed" trees or leaves succumbing to the weather.
"Now we are getting a more normal progression of leaf change," he said. "Some areas are in fact a little bit slow to turn, such as Old Forge."
Vote on this Story by clicking on the Icon