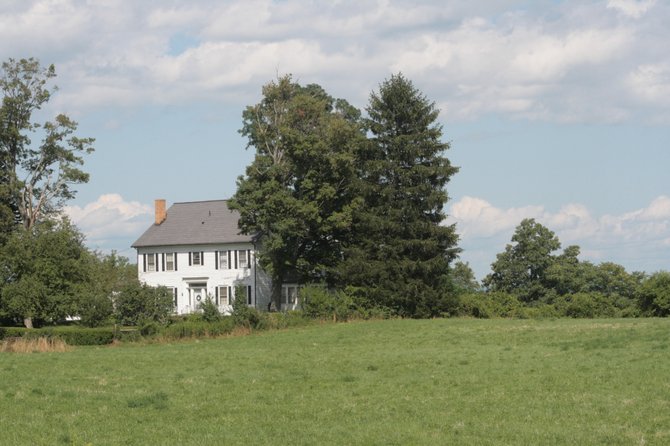 Ballston — A plan for the Town of Ballston to purchase an iconic piece of farmland has failed, much to the chagrin of the landowners and open space advocates.
A resolution to put the purchase of the Cappiello Farm to a public referendum was brought forward at a Town Board meeting Wednesday, Sept. 26, but no board member seconded Supervisor Patti Southworth's motion. The town was set to offer $600,000 for 272 acres and bring the land under a preservation plan formed by the Ballston Farmland Protection and Preservation Committee.
Southworth said from listening to the public at two public meetings, it was clear voters should have been given the decision as opinion seemed split.
"Obviously I'm disappointed. I knew that this was a piece of property that the town felt very strongly about. But more importantly I think this was an issue where we had an opportunity to let the public vote and tell us how they wanted us to proceed," said Southworth.
According to Councilwoman Mary Beth Hynes, the board was not comfortable seconding Southworth's motion because they were informed by Town Attorney Murry Brower prior to the meeting a public referendum would not have been timely. She added the offer was available for only the one night.
The Cappiello family and farm have been fixtures in the Ballston community for more than 50 years. After the passing of the family's patriarch Julio Cappiello in December of 2010, the family decided to put the 289-acre Route 50 property up for sale. In a statement by Nancy Cappiello that was read at the Wednesday meeting, Cappiello lambasted the board for not pursuing the sale.
"A proposal to purchase an enormous parcel of the property at far below market value comes before the board and you say what? 'Oh no, this is happening too fast,' and actually accuse our family of holding a shotgun to your heads. Really?" said Cappiello. "How dare you? How many of you would be willing to wait and wait and wait to sell a valuable asset that you own?"
(Continued on Next Page)
Prev Next
Vote on this Story by clicking on the Icon