SCHENECTADY — Schenectady County leaders are eyeing a proposed 2013 budget with a tax hike more than double what is allowed under the tax cap after residents pleaded for a plan with a lower tax levy.
The Schenectady County Legislature on Monday, Oct. 1, held a special meeting before its scheduled committee meetings and voted to override the tax cap to allow County Manager Kathleen Rooney to present a budget exceeding a tax levy increase of 2.95 percent, the maximum allowed. Later on Monday, Rooney unveiled her proposed spending plan with a 7.5 percent tax levy increase, totaling $296 million, a 0.26 percent increase over this year's spending plan.
"We all know this has been a fairly difficult process and it has also been a fairly difficult budget to construct this year," Rooney said to legislators.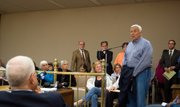 The legislature approved overriding the tax cap by a vote of 11-4, with Republican James Buhrmaster, Conservative Holly Vellano and Democrats Angelo Santabarbara and Thomas Constantine opposing it.
Majority Leader Gary Hughes, D-Schenectady, said if people only look at the 7.5 percent increase proposed it appears significant. Hughes pointed out that the legislature over the past three years has not increased the tax levy, and decreased it twice.
"When we were able to save and did not have to ask the taxpayers for more we didn't ask," Hughes said. "The manager says this is the year we need to increase property taxes."
Hughes said the legislature would review the budget "extraordinarily carefully" over the next three weeks to see if there are any ways to reduce spending. He said many Democratic legislators want to maintain services while meeting increased mandated costs.
"We strongly understand our obligation to the taxpayer," Hughes said.
Medicaid costs are projected to total $34.6 million next year, which is an increase of $680,000. Retirement costs are estimated to total $13.6 million next year, which is an increase of around $1.5 million. Since 2009, mandated costs have increased $17 million.
(Continued on Next Page)
Prev Next
Vote on this Story by clicking on the Icon