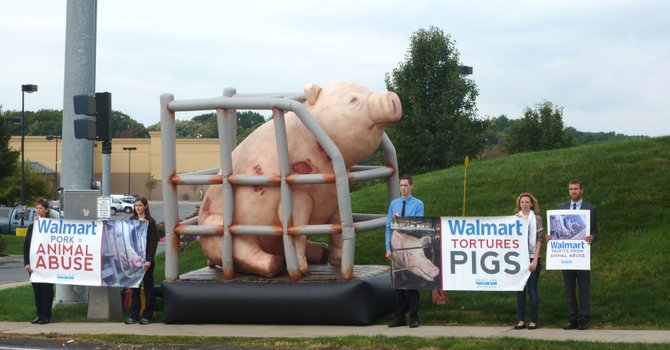 continued — The graphic video shows pigs in dirty gestation crates, piglets being neutered without anesthetics and sick and dying pigs left without veterinary care. However, nowhere in the video does it show the name of the farm to confirm it was actually shot at a Wal-Mart pork supplier as claimed.
Letten said Wal-Mart pork suppliers are guilty of horrific misdeeds toward animals.
"This is blatant animal abuse that no socially responsible corporation should be supporting," he said. "If Wal-Mart pork producers subjected dogs and cats to the array of standard abuses they inflict on pigs, they would be arrested and jailed on grounds of animal cruelty."
Deisha Galberth Barnett, senior director of Corporate Communications for Wal-Mart U.S., called the issue "complicated."
"There are different points of view," she said in an email. "We currently offer gestation crate-free pork products in a number of stores across the U.S. and will continue our ongoing discussions with suppliers, nongovernmental organizations and food safety experts to increase that number. We hold our suppliers to the highest standards and do not tolerate animal mistreatment."
She suggested anyone interested in knowing more about how grocers and restaurants source pork products to contact the National Pork Board or visit pork.org.
Shoppers at the Glenmont Walmart had different views on the subject. Some had not even seen the demonstration before entering the plaza, while others honked their car horns in support or stopped to speak with the group to learn more information.
Barbra Vardabash, of Westerlo, said she does eat meat, but is also an animal lover.
"I think animals should be treated as humanely as possible, even if they are going to be eaten," she said. "It should be the store's responsibility to check how the animals are treated, but I don't always trust they do."
One shopper hailing from Delmar said demonstrations by animal rights groups do not deter her from patronizing certain stores.
"I think if you're going to eat meat, you have to accept the animals are not going to have a wonderful life," she said. "Some suppliers are worse than others. I'm more concerned about the use of additives and antibiotics."
The Mercy for Animals Walmart Cruelty tour is in its ninth week and will continue near cities along the East Coast.
Vote on this Story by clicking on the Icon