continued — "They asked why I was smiling so much, and I told them because this was a check off my bucket list. I interviewed to be on the Cooking Channel," he said. "They told me they hadn't made any final decisions and I said I didn't care."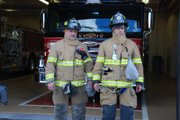 Just the experience was enough for Massie, but it didn't end in Manhattan. After making special arrangements with the Elsmere Fire Department, a film crew spent three days filming at the firehouse at the end of September.
Rocca arrived with the film crew at Massie's apartment on a Sunday night, as did friends and family members. Massie made dinner for about 30 people as everyone got to know each other. Soon, they became like a big family.
After filming Massie cook Italian garbage bread on Monday, the entire production crew followed the family bowling that night at Del Lanes. After, they all went to My Place Restaurant for drinks.
"We had tons of fun, but it was also a lot of work," Massie said.
The next day, Massie and Rocca were filmed together at the firehouse making a ham dinner with garlic potatoes and Massie's grandmother's green beans. Behind the scenes, chefs replicated the dishes to Massie's specifications for the 50 people who watched the taping live. They also made sure the food looked aesthetically pleasing for television.
"They called it the food porn shots," Massie said. "I asked why my food didn't come out looking the same way, but they took their time to get it right and it was meticulous."
Elsmere Fire District Administrator George Kaufman said the company is proud of Massie and his newfound stardom.
"It's a big morale booster to see one of our brothers on a cable television network and he gets to show off his excellent cooking skills," said Kaufman. "We're all looking forward to the show. It will be interesting to see how it is all edited together."
Vote on this Story by clicking on the Icon