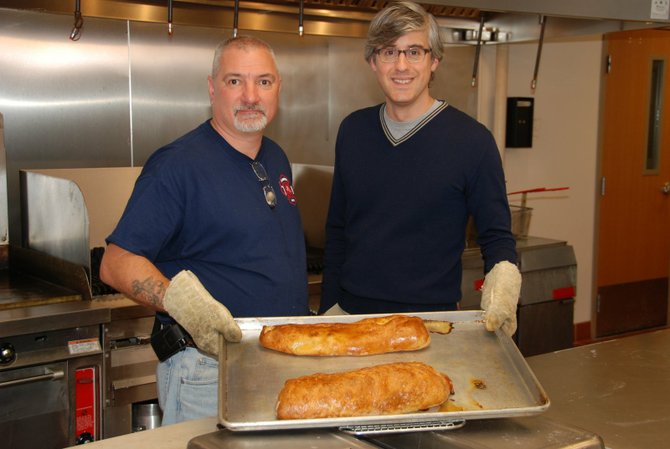 continued — Massie is already a star at the firehouse though, as dishes like his potato and leek soup and shepherd's pie are hits with hungry firefighters.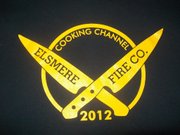 Massie was so comfortable in front of the cameras, he pitched his own cooking show to producers focusing on firehouse food across the country.
"They told me it was a good idea and they might be in touch," he said.
Josephine Massie said it was no surprise her husband took naturally to being on camera.
"He has a great personality and that really came through," she said. "He gets along with everyone and loves talking to people, so I knew he would be good at it."
Massie was just happy he could share the experience with his family.
"I spent 21 years in the military and some in special forces and I have to tell you, this was the pinnacle of my life up until this moment," he said.
The show will air on Dec. 12 at 8:30 p.m. on The Cooking Channel.
Massie's Garbage Bread: Chicken, Broccoli and Cheese
1 package of thinly cut chicken cutlets (approximately 8 oz)
1 small head of broccoli
2 tablespoons extra virgin olive oil
Garlic powder
Onion powder
Salt and pepper to taste
1 pound pizza dough
1 egg whisked
Cheese Sauce:
Bechamel Sauce
2 cups grated cheddar cheese
2 cups grated fontina cheese
Bechamel Sauce:
5 tablespoons butter
5 tablespoons flour
3 cups hot milk
¼ teaspoon cayenne pepper
Salt and pepper to taste
Pound out cutlets until paper thin. Season with salt, pepper, garlic powder and onion powder.
Heat olive oil over medium heat. Saute cutlets for 3-4 minutes per side. Set aside to cool.
To make bechamel sauce: In a medium saucepan, heat butter over medium-low heat until melted. Add the flour and stir until smooth. Over medium heat, cook until the mixture is a light, golden color.
Meanwhile, heat the milk in a separate pan but do not allow it to come to a boil. Add the milk to the mixture 1 cup at a time, whisking continuously until very smooth. Bring to a low boil and cook for 10 minutes stirring constantly. Add the cheddar and fontina cheeses and continue stirring until melted. Remove from heat. Add cayenne and black pepper. (Taste before adding the salt as the cheeses have a lot of salt in them).
Set aside to cool and thicken.
Steam the broccoli in a steamer until crisp tender. Place in an ice bath. Remove the florettes and break them up keeping them small. Julienne the stems of the broccoli.
Combine broccoli and cheese sauce.
Roll out dough.
Lay out the chicken cutlets, overlapping as a bed to prevent the cheese sauce from seeping through the bread and becoming mushy.
Spoon the broccoli and cheese mixture over the chicken bed.
Roll dough, tucking in ends as you would a burrito. Continue rolling and seal end with an egg wash. Cover entire roll with remaining egg wash.
Place on bakers rack and bake at 375 degrees for 35-40 minutes checking frequently until crust is firm and lightly browned and dough is cooked through.
Cut into 2-inch slices and serve.
Vote on this Story by clicking on the Icon