ROTTERDAM — A local man's love for all things barbecue and a drive to perfect his slow-cooked craft has resulted in the creation of a family business.
Not too long ago, Rotterdam resident Dave Borst, couldn't tell you what goes into a dry rub or barbecue sauce. Today, he'd invite you to try his own concoctions crafted after studying the greats in barbecuing, at his family-owned restaurant North Country BBQ, located on South Thompson Street in Rotterdam.
"We got a hunting camp up in Old Forge and we used to drive through there on Friday nights and on the way up I used to stop at this barbecue place north of Little Falls called Piggy Pat's," Borst said. "I fell in love with it and then I shortly realized once the hunting season was over I couldn't get my barbecue unless I wanted to drive an hour and 20 minutes. I figured I better learn how to make it myself."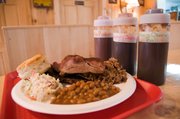 He tinkered with his recipe and gauged approval from his friends and family before settling on his final blend of spices, which he still does tinker with from time to time. Borst first unveiled his BBQ at Briar Creek Golf Course in Albany after talking to his friend who runs its banquet facility and restaurant.
"I asked him if he would put my ribs on his special board one night to see if people liked them, and they did," Borst said.
Two years ago, he nabbed a contract to provide barbecue at Double M Rodeo in Ballston Spa. He has been catering over the last few years for other events and occasions.
Transitioning from catering to opening an entire restaurant came out of necessity. Borst said the state Department of Health requires a commercial kitchen to be used when preparing food.
(Continued on Next Page)
Prev Next
Vote on this Story by clicking on the Icon