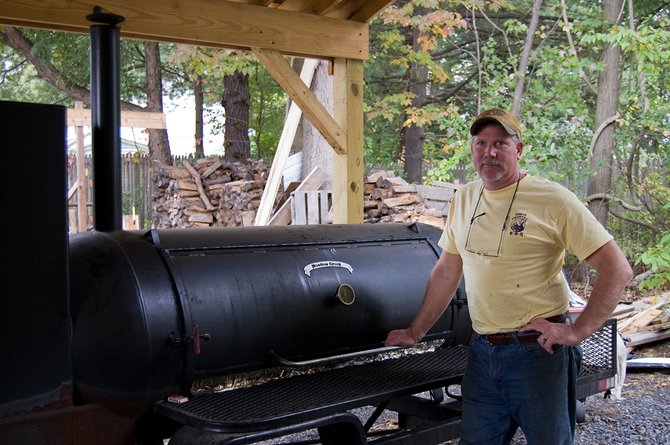 continued — "We started building this and I figured we might as well put a dining room in, so here we are," he said.
But the business aspects of how North Country BBQ came to be only accounts for a portion of the work Borst put into the endeavor. Before serving up the first rack of ribs, he had to learn the craft.
"I went to Barnes and Noble and starting sitting down with a cup of coffee and going through book after book after book about barbecue," he said.
Many of the national and world champion barbecue masters who are often featured on television shows have their own books out that spill the beans on the tricks of the trade, he said.
"They put a lot of information in their books," he said. "I got a big, giant pile of books that I just go through all the time."
Looking through the recipes, he said he noticed common elements between the cooks. Using these as a base, he created his own recipes and got to where he was pleased with the product.
His family does have an entrepreneurial spirit, but Borst is the first to dabble the food industry.
His family used to own Borst Oil and Tire, which his grandfather founded in 1945. The oil and tire business separated in 2000, and Borst took over the oil business. As profits dipped, he recently sold the oil business.
He said natural gas prices are going down and oil prices are increasing, which has led more people to switch and not look back for their heating options.
"Nobody is buying oil anymore and it is going in the same direction that Blockbuster video went; there is just no reason for them to exist," he said. "That is what is happening to us oil guys."
He said his oil business was seasonal, so using the summer for catering would've worked perfectly alongside it.
"I thought they would work well together," he said. "I decided it would be best to get rid of the business while I could still make $2 off of it before it was completely worthless."
He put funds from the sale towards helping finance his restaurant, which opened a month ago. For more information on the restaurant, visit its Facebook page. North County BBQ offers take-out and dine-in options.
Vote on this Story by clicking on the Icon