GLENVILLE — Target rolled out the red carpet, literally, to welcome the first round of shoppers to its new Glenville store.
The former Kmart Plaza on Route 50 in Glenville started a new chapter on Tuesday, Oct. 9, as Target opened its new 135,000-square-foot store on schedule. The 13.2-acre site had been vacant since August of 2006 and town officials focused on redeveloping the blighted property to spur development at the town center.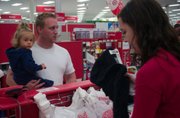 Town Supervisor Christopher Koetzle was the first customer in the doors, which town officials were pleased to see completed.
"This is very exciting," Koetzle said. "We obviously have a lot of success in our commercial corridors and it is only to get better from here."
Koetzle said redeveloping the former Kmart was a "hugely important" element of the town's economic development plan. He said Target would anchor future development along Route 50.
"I think we are going to have great success going forward," Koetzle said. "There is just so much going on in Glenville."
The store opening marks the first phase of redevelopment at the plaza, with Panera Bread lined up to open a 3,800-square-foot restaurant on a pad site. There will also be a 32,000-square-foot retail strip alongside Target, but no tenants have been announced yet. The entire project is estimated to total $20 million.
The Target includes an expanded selection of fresh grocery items, including produce, meats and bakery items. There is also a pharmacy and Starbucks. The store officially welcomed shoppers on Wednesday, Oct. 10, and a grand opening event will be held on Sunday, Oct. 14.
Glenville resident Matt Near was excited to see the store open.
"We have been waiting for this to come," Near said as he purchased several items with his 15-month-year-old daughter, Brittyn, in his arms. "We prefer Target over other places."
Before the Glenville store, Near would travel to the Target in Niskayuna or Clifton Park. Now, he lives within walking distance of shopping.
Target Store Team Leader Nikki Reilly said the community was welcoming and local officials were easy to work with. The store will employ about 200 and there are some permanent positions still open, Reilly said. Seasonal hires are also being sought, which typically totals about 50 positions.
Reilly said the Glenville store is a new prototype for Target, which she said is 35 percent more energy efficient than other retailers.
Vote on this Story by clicking on the Icon