SCHENECTADY — Ellis Medicine began its last major step in a six-year restructuring effort on Friday, Oct. 5, as it broke ground on a new, state-of-the-art emergency room at Ellis Hospital on Nott Street in Schenectady.
"This project reflects our ongoing commitment to provide you with the highest quality of emergency care," said Deborah Mullaney, chairwoman of Ellis Medicine Board of Trustees.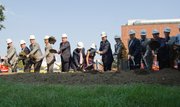 The Golub Center for Emergency Care will cost $61 million and will nearly double the size of the emergency room to total 38,000 square feet. A new two-deck parking garage will also be constructed at the current ER parking lot, adding 94 parking spaces and to bring total parking to 212 spaces. The project is expected to be completed in early 2015.
At a groundbreaking attended by Ellis administration and physicians, local officials and community leaders, Ellis Medicine President and CEO James W. Connolly issued thanks to all involved in the project, but singled out Jane and Neil Golub.
"(The Golubs') vision and their support for the facility for Ellis over the last years have really been inspiring to all of us," Connolly said.
Neil Golub said he was proud of the team at Ellis for the work it has done towards the expansion and the care it provides.
"This facility is always here when we need it," he said. "We are very optimistic about the good this new facility will do and the people who will benefit from its service."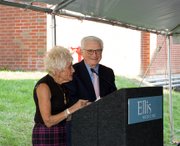 Jane Golub stressed the importance of the emergency room.
"Because emergency is often the main door to the hospital we must have high-quality care," she said.
Dr. Roger Barrowman, chairman of Emergency Services for Ellis, said the project is the "most colossal" he has ever worked on. It took more than five years of planning.
Barrowman outlined improvements of the new ER, including closer proximity to patients for doctors and nurses, a CT scanner and digital X-ray machine located in the ER and doors on every room for increased privacy. Some other highlights include an increase in private rooms from 47 to 50, cardiac monitoring in every room and kid-friendly rooms. The new ER is also promised to reduce wait times.
(Continued on Next Page)
Prev Next
Vote on this Story by clicking on the Icon