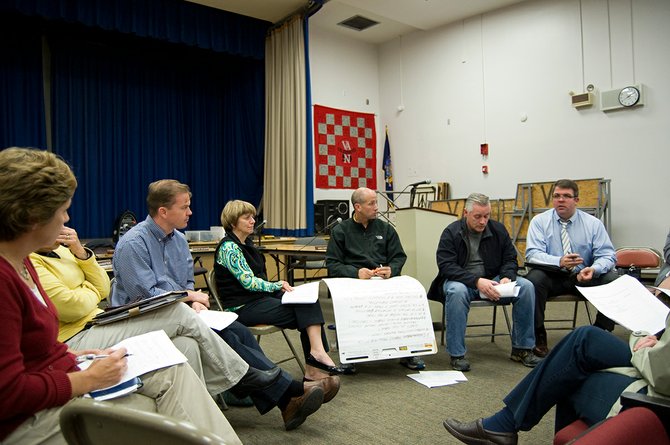 continued — Salvaggio said the district has "some initial ideas" on savings, but wanted people to focus on what configuration is best.
"We wanted people to talk about the concepts and identify what we might be willing to do, or just not do," she said. "I'm hoping that we could out of this conversation begin the process where we would narrow the options down."
There was not any clear option supported, though, with concerns and benefits for each option raised. Before attendees broke out into groups to discuss the positives and negatives of each option, more than a dozen people commented on the proposals.
Jay Nish said he resented the report claiming small schools are inefficient, because he felt the learning experience provided is better.
"There is a human factor and a human cost and sometimes that can supersede the dollar amount," Nish said.
A few residents doubted the Van Antwerp could be rented out, but others thought the facility could be filled without too much effort. Rebecca Davenport said the neighborhood feel of the schools is important and transitioning to the combined schools could mean kids being "lost in the shuffle."
"Nothing good ever really comes out of closing schools," Davenport said.
Barbara Burgess, who has three children in the district, said it is important for people to evaluate the options and consider what is best for the district as a whole.
"I hope that we can all to a large extent keep our emotions in check and look at not what is just best for our children in our own family, but overall what is best for all the kids," Burgess said.
The district will hold another re-visioning meeting on Tuesday, Nov. 6.
Vote on this Story by clicking on the Icon