CAPITAL DISTRICT — When Patrick Dodson was a kid, he found a camera in the woods behind his backyard. With a new toy and inspiration from his grandfather's photography, Dodson took photos of one of the things he knew best: his cat.
"My mom would get so mad because I would literally just follow my cat around for an entire day just taking terrible photos of it," Dodson, originally from New Haven, Conn., said. "None of them were in focus. My mom would come back with this roll of film that would have a few important photos on it and the rest were just cat photos."
Although he continued snapping feline photos, Dodson started getting more into the news and a photo class in high school later helped him take his hobby to a new level.
"That's when I really realized that's what I wanted to do," he said.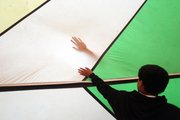 Now 24, Dodson's passion has helped him not only begin to make a living, but shape how he views the world. Dodson has four photos at Siena College's exhibit, "Focus on Four," in the Yates Gallery in the Standish Library, and through his work as a photographer for The Daily Gazette, thousands see his work. For Dodson, stories that need to be told aren't far flung, they're close to home.
"I think the story is in America. When I was a little kid I always wanted to be a conflict photographer. (But) I think 9/11 was a turning point for me. They announced it over the speaker and all the other classrooms except mine watched it live. That really pissed me off, because I didn't get it to see it to believe it. I'm really passionate about that things need to be documented," he said.
Three of Dodson's biggest influences – Eugene Richards, John White and Todd Heisler – also have shot most of their body of work in America.
(Continued on Next Page)
Prev Next
Vote on this Story by clicking on the Icon