BETHLEHEM — Jim Zheng has always wanted to own an authentic Asian teahouse and now his dream is becoming a reality.
The Bethlehem resident finally opened Tea House Asian Bistro on Monday, Oct. 8, after months of scouting for the perfect location, redecorating and selecting a menu. The eatery has opened in what was formerly Friendly's Restaurant on Delaware Avenue in Elsmere.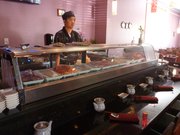 Zheng is the former owner of Haikkado restaurant in Glenmont, but sold the business nearly two years ago. He decided to try again with another restaurant at the urging of friends and old customers who wanted to be able to taste his food again.
"I use to have a lot of regular customers and one asked me to check out the old Friendly's, so I did," he said. "It took about 10 months to (open) and four to get a lease."
Eleven Capital District Friendly's restaurants have closed since October of 2011, shortly after the Massachusetts-based chain filed for Chapter 11 bankruptcy protection. The company said it had attempted to work with landlords to restructure lease arrangements to keep the businesses open, but the decision was made to close the majority of restaurants within the area.
Five Friendly's remain open within the greater Capital District today, but the closures have forced many municipalities to work hard to find tenants for the buildings.
Zheng said he chose the location because he wanted to keep his business within the Bethlehem community. Though his eatery is nothing like Friendly's, he knew with hard work the business could be transformed. Now, the outside of the restaurant retains the familiar chain restaurant's look, but the interior has been transformed.
The restaurant offers a mix of traditional Japanese, Chinese and Thai cuisine, and includes a small sushi bar. Although Zheng is Chinese, he said he has had an affinity for Japanese cooking. He began working in restaurants at the age of 17. After honing his skills, he moved on to working with other Asian fare and for the past eight years has worked as a Japanese sushi chef. Another chef was hired from Manhattan to help.
(Continued on Next Page)
Prev Next
Vote on this Story by clicking on the Icon