continued — "Raising taxes may seem like the answer to our problems, but it's not," he said. "It is driving people who can afford to pay taxes out of Schenectady County and with each family that leaves, the problem gets bigger."
Ed Capovani, a Glenville resident and small business owner, also said raising taxes would make residents leave the county. He urged legislators to develop creative solutions to reduce taxes.
"If you keep taxing everybody where they can't afford to pay and they flee the county … the burden is larger for who remains and that population gets smaller," Capovani said.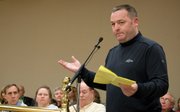 Joseph Guidarelli, Rotterdam resident and Schenectady business owner, questioned why raises are being given to some employees after legislators voted to override the tax cap.
"In this economy and what's going on in this county, it leads me to believe that the people on this board are out of touch with reality," Guidarelli said.
Others, though, argued legislators aren't understanding of challenges that would face residents if services are cut.
Margo Mahoski, of Catholic Charities Senior Services in Schenectady, said the group has served 17,500 meals this year at its four dining centers spread across the county. It also made 4,000 meal deliveries through its Meals on Wheels program. Catholic Charities' medical transportation program usage has increased 49 percent this year and is estimated to make 16,000 trips to and from appointments, Mahoski said.
Several people associated with the Schenectady County Public Library said the library would be unable to continue offering the same level of service should any more cuts be made to its budget. Some said hours might have to be reduced if the budget is cut.
"The libraries are the first place that a struggling community comes to for help," Karen Bradley, reference librarian and adult programming coordinator, said. "The library staff is out working in the literary trenches, taking books and effective programs directly into the lives of children, their parents, their grandparents, their caregivers. "
Vote on this Story by clicking on the Icon