CLIFTON PARK — Both candidates in the 20th Congressional District attempted to align their opponent with destructive Washington politics in a debate last night.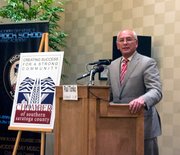 Democrat incumbent Paul Tonko and Republican newcomer Bob Dieterich presented contrasting visions for the district and country at the League of Women Voters of Saratoga County's candidate forum on Tuesday, Oct. 23, at the Clifton Park Hilton Garden Inn. Many arguments mirrored the national debate occurring between Democrats and Republicans in this presidential election year. Members of the audience provided questions for the candidates.
Economy top topic
Each started the debate by framing the election as a fight for the middle class — and how their opponent would fail that group. Tonko stressed the economy must be improved from the "middle out" and not from the "top down." He argued Dieterich was aligned with economic policies that led to the recession.
"The middle class has taken it on the chin and there have been unfair policies," Tonko said. "We have learned painfully, two times over, that trickle down economics simply does not work."
To rebuild the economy, Tonko said investments should be made in research, empowering small businesses and strengthening the middle class.
Dieterich agreed the election is a fight for the middle class, but argued the country is moving towards a "financial crisis" from government overspending.
"As our debt grows our currency weakens," Dieterich said, "which makes the prices of commodities increase like food for our families and fuel to get to work, which actually hits the middle class more harder than anyone."
Dieterich said simply charging the "rich people" more isn't going to solve the nation's debt problem. Before reforming the tax code, he said spending must be tackled.
"If you double the taxes on everyone that pays taxes, you still couldn't afford the government that we have," he said.
(Continued on Next Page)
Prev Next
Vote on this Story by clicking on the Icon