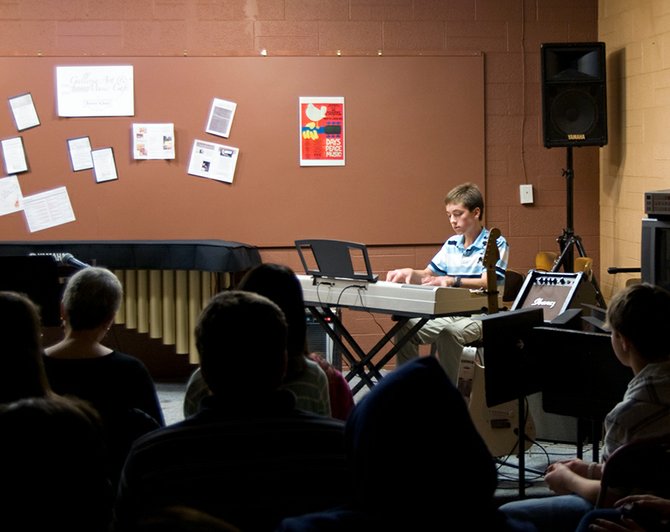 continued — Rigley, of Schenectady, played "Good Riddance" because it was the first song he ever learned, with Salvatore as his teacher. Outside of the pilot program, Rigley said he hadn't played in front of a crowd.
Salvatore said it is important to connect to people outside the school and offer the community a new opportunity. Reaching younger musicians learning an instrument is what spurred her original idea.
"My vision was to mainly have a place for (young musicians) to come to and something that wasn't intimidating to them," Salvatore said.
For children, or even older musicians, performing at a commercial café or other venue might be a daunting experience, but the school's space allows for a "contained" environment, she said.
"A couple of performers who will be in the room in upcoming months said a lot of places don't have this opportunity anymore," she said.
The smaller room, as compared to a school auditorium, allows for a more intimate setting, too.
"Our first concert was a jazz trio and … we were so close to them," Salvatore said. "It does give you that intimacy with the musicians."
Performers are requesting Friday evenings to perform at the café, so different music is performed about every week. The school also collects nonperishable food items at the performances for donation to local food pantries.
The project is going "much better" than Salvatore first imagined. After some families heard about the school's ambition, they donated funds, supplies and time. Jim Faddegon, of Faddegon's Building and Remodeling, donated paint and his time to give the walls a fresh coat.
There is still some more work to be done at the café, Salvatore said, such as building a new stage.
"We have a little bit of renovation to do," she said.
Brown School is located on Corlaer Avenue in Schenectady and instructs students through eighth grade.
Vote on this Story by clicking on the Icon