CAPITAL DISTRICT — Representatives of five area school districts got together recently to protest what educators say are a series of missteps by the state that are strangling public education.
Educators from South Colonie, Niskayuna, Schenectady, Schoharie and Cobleskill-Richmondville school districts met on Thursday, Oct. 18, at Sand Creek Middle School in Colonie to share their financial struggles. The districts represented a cross section of communities throughout the Capital District, from city to rural, to show the similarity of challenges facing communities.
The forum was part of The Alliance for Quality Education of New York's Educate NY Now campaign.
"I've been all across the state … one thing we all have in common right now is that our schools are seeing tough times," said Chad Radock, a coordinator for Educate NY Now, to the gathered educators. "You can bet the losses that you saw here in your district are statewide and major."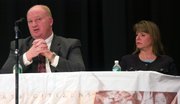 Alliance representatives and educators primarily bemoaned the state's gap elimination adjustment, which reduced state aid to most of the state's school districts this year. Radock said state aid has been reduced $2.7 billion over the past three years.
All the educators shared their experiences of having to cut stuff members, negotiating difficult employee contracts and the decreasing opportunities for students in and out the classroom. Disdain was expressed for the state's gap elimination adjustment (GEA) formula.
South Colonie Superintendent Jonathan Buhner said reducing state aid while imposing the tax cap is unfair to school districts.
"One or the other, most districts would have been able to adjust to," Buhner said. "The two together over a sequence of multiple years (is a) recipe for disaster."
Of the five districts, Schenectady is scheduled to lose the most aid in the 2012-13 school year at $7 million, a full 13 percent of the city district's tax levy. Cobleskill-Richmondville is set to lose almost $3.2 million in state aid, but that represents 22 percent of the tax levy. Niskayuna is scheduled for a $3.4 million reduction and South Colonie for $3.7 million.
(Continued on Next Page)
Prev Next
Vote on this Story by clicking on the Icon