continued — Lizzy Moore, a 14-year-old Cobleskill-Richmondville student, said extracurricular are her primary concern. Moore participates in three different music ensembles and credited the school for making her a better musician, which she said is important to her and classmates.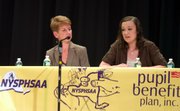 "Last year we were a bit concerned that some of our music programs might not be funded and that made a lot of my friends very, very scared," Moore said. "Thankfully, our community and our school really supported us and we were able to keep our music program and maintain it."
She also is a member of several clubs and school groups. Last May, she won the state public speaking contest; this year she moves on to compete at the national level. For academics, she is in two honors classes and is taking one class a year early.
"Because our school offers so many advanced and rigorous classes to its students … that lets each student reach their full potential in any subject that they choose," Moore said.
Radock said rural and smaller city districts felt the initial burden, but it has now spread to affect most districts across the state. This was the fifth event forum the group has held statewide.
He said a "sound, basic education" is not being guaranteed for all students across the state, which is a constitutional guarantee. Now, he said it is up to parents, teachers, students and anyone concerned about education funding to pressure state representatives to restore aid to districts.
"When districts like Niskayuna get up here and start talking about they are being hurt and their schools have been traditionally one of the best places around then it's time, it's time for people to stand up," Radock said.
Vote on this Story by clicking on the Icon