Shenendehowa and Burnt Hills-Ballston Lake are headed back to the Section II football finals in their respective classes.
Shen (8-1) knocked off Columbia 34-12 in last Friday's Class AA semifinal in Clifton Park, while BH-BL (8-1) pulled away for a 36-20 victory over Class A rival Queensbury.
Photo Gallery
Shenendehowa vs Columbia Playoff Football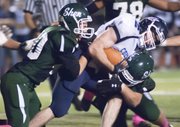 Shendehowa moved on in the Section 2 Class AA football playoffs on Oct 26 defeating Columbia at home 34-12.
Shen faces Shaker (9-0) in Friday's Class AA final at Brent Steuerwald Stadium. One night later, BH-BL plays Amsterdam in the Class A final at Shen.
Shen used a big second half to eliminate Columbia (5-4) last Friday. Corey Acker had a pair of long touchdown runs, and Marcelino Christie added an 8-yard scoring scamper to help the Plainsmen break open a close game.
Acker got Shen on the scoreboard first with a 9-yard touchdown run in the first quarter. The Plainsmen missed the extra point, though, leaving them with a 6-0 lead.
Columbia tailback Chris Smith tied the score at 6 a short time later with a 77-yard touchdown run and put the Blue Devils ahead by capping a second-quarter series with a 1-yard scoring run. But Acker caught a 46-yard touchdown pass from quarterback Ryan Buss, and Anthony Vilardi added the extra point to put Shen in front 13-12 at halftime.
The big plays continued for Acker in the second half. He had a 75-yard touchdown run in the third quarter to put Shen ahead 20-12, and he added a 64-yard scoring run in the fourth quarter to seal the victory.
Acker rushed for 166 yards and caught two passes for 57 yards to lead Shen's offense.
Several miles away, BH-BL shook off Queensbury by outscoring the Spartans 21-6 in the second half.
"Queensbury is a really good team, and they were a really good challenge for us," said BH-BL coach Matt Shell. "They were very physical, and we were able to match them with some physical play of our own."
(Continued on Next Page)
Prev Next
Vote on this Story by clicking on the Icon