BETHLEHEM — Budget and economic development were the main discussion points at a recent forum between the two Democratic primary candidates for an open Bethlehem Town Board seat.
Photo Gallery
Photo Gallery - Bethlehem Democratic Primary Debate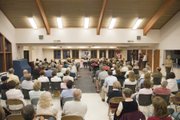 Democratic Primary Candidates for the Bethlehem town board met at a Forum sponsored by the League of Women Voters and Spotlight on Sept. 4.
On Tuesday, Sept. 4, candidates Bill Reinhardt and Jack Cunningham met to answer questions from the audience at a forum sponsored by the Albany County League of Women Voters and Spotlight Newspapers at Delmar Presbyterian Church.

Both men are vying for a seat that will soon be left vacated by Town Board appointee George Lenhardt at the end of the year. Cunningham is endorsed by the town's Democratic Party, while Reinhardt is challenging him with support from the Reform Democrat group.
Balance budget said to be tall order
Each candidate was asked his views on the town's current fiscal situation and what could be done to balance the town budget and revive the local economy. By some accounts, the town is facing a nearly $3.5 million budget gap in the coming year.
Cunningham said innovative ideas are needed in order to keep taxes low and maintain the current level of services that Bethlehem residents have become accustomed to. He said residents are worried about taxes but don't want to see cuts to the police force or an end to leaf pick up. The former Bethlehem supervisor touted work done in his current position as Colonie Public Works commissioner, like reducing hours to decrease overtime and fuel costs, and also said more needs to be done to raise the town's revenue stream.
Reinhardt said some tough decisions will need to be made this budget season and commended the work being done Supervisor John Clarkson and the town's Budget Advisory Committee in streamlining operations to save funds.
"How are we going to lower taxes and increase services? Because I keep hearing that that's doable and I really don't think it is," he said, calling the relationship between the two a tradeoff.
(Continued on Next Page)
Prev Next
Vote on this Story by clicking on the Icon