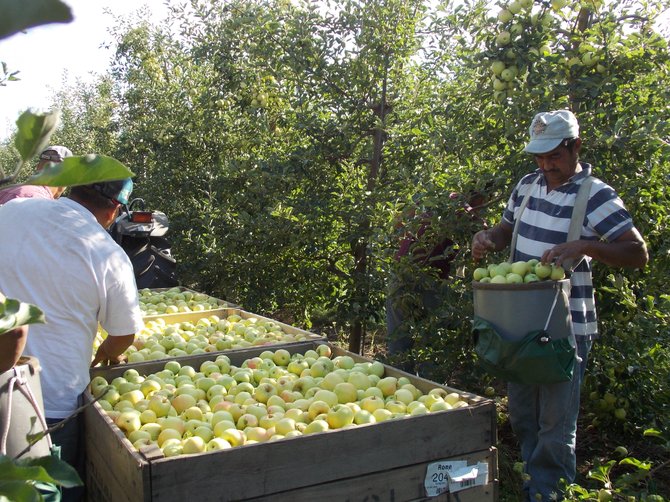 continued — Apple cider, donuts and pies will be available at Altamont Orchards, with activities for the kids. The 19th annual Apple and Wine Festival will also take place on Sept. 17 and 18.
Peter Ten Eyck, owner of Indian Ladder Farms in Altamont, said the farm will offer limited pick-your-own apple weekends on Sept. 1 and 2, Sept. 22 and 23 and Oct. 20 and 21. The variety of apples available will depend on the date. To supplement the need for additional apples to purchase in the store, some will be provided by other growers from New York and New England participating in the ECO Apple Growers group.
"We're in our 97th year and I want to find a way to dig us out of this hole so we can be around long enough to be a century farm," he said.
Ten Eyck added he knows the decision to bring in apples from other growers is bound to be controversial, but he will label the apples to identify the farm providing the produce so there is no confusion. He is sorry the farm cannot provide enough of its own apples for customers, but wants to make sure the tradition of visiting Indian Ladders continues. The market, gift shop, bakery and café will all remain open throughout the season.
Golden said many farms have crop insurance, but it often doesn't cover the cost of the entire loss.
Ten Eyck said his farm has insurance but it will only cover a third of the losses. Plus, many pickers across the state will be losing out on jobs.
"We took a big hit two years ago when we were in a similar situation, but it was nothing compared to this," he said. "This is the worst we've ever had."
Saratoga Apple in Schuylerville will also have limited "pick-your-own" day — owners there estimate 70 percent of the crop is gone — while Goold Orchards in Castleton-on-Hudson has canceled its "pick-your-own" all together.
Vote on this Story by clicking on the Icon