continued — Yet Kindlon disagreed, saying Soares is "running to be the district attorney of the City of Albany" while Kindlon is running to be the "district attorney of Albany County."
Photo Gallery
Photo Gallery - 110th Assembly District Candidate Forum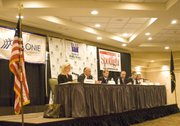 The Candidates for the 110th Assembly District squared off in a debate on Sept. 5 in Colonie.
"Here in Albany County we've reached a fork in the road. Down one path we have four more years of the same problems, same scandals, same excuses," Kindlon said. "If we choose a new path … we have the chance to being a new with fresh ideas, a bold vision, a promise for a safe tomorrow."
Soares, who was elected as Albany County DA in 2004, is running for his third term. Albany defense attorney Kindlon would presumptively take the office should he win the Thursday, Sept. 13 primary, as there is no other challenger.
Vote on this Story by clicking on the Icon