ROTTERDAM JUNCTION — A year after floodwaters from Tropical Storm Irene ripped through their communities, residents gathered to celebrate progress and a return to a new normal.
"I'm excited about tonight," said Nathan Mandsager, coordinator of the Flood Recovery Coalition for Schenectady County. "My hope in bringing this event together was that it would really have a family reunion-type feel."
The Flood Recovery Coalition, along with the Schenectady County Historical Society and Schenectady County Public Library, on Wednesday, Aug. 29, held an event at the Mabee Farm Historic Site in Rotterdam Junction commemorating the one-year anniversary of the flooding.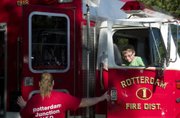 Though the event was to remember the dramatic damage done by floodwaters to properties and lives, there was an upbeat feel, in no doubt due to the fact about 120 homes have been rehabilitated in the past year.
Everyone isn't back in their homes though, with about eight families still facing a long road before moving back in, Mandsager said. He is hoping to have the families back into their homes by Christmas at the latest.
"We are still working with 20 families to some degree," he said. "Some have a lot of work still ahead of them and others are just about ready to move back home."
The coalition was formed to streamline flood recovery volunteer and donation efforts. A number of existing groups came to the table and have worked together, including The Schenectady Foundation, The Schenectady County Historical Society, The City Mission of Schenectady, The Schenectady Community Action Program, Catholic Charities of Schenectady, Habitat for Humanity of Schenectady County, St. Margaret of Cortona Church in Rotterdam Junction, Schenectady County Public Library and Friends of the Library.
St. Margaret's has served as the command center for the coalition since October so there would be a physical location for people to go to for help. Mandsager said the coalition also reached out to surrounding areas affected by the flooding.
(Continued on Next Page)
Prev Next
Vote on this Story by clicking on the Icon