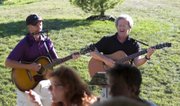 continued — At the event, Mandsager remembered how the storm hit on "a day just like this," as children grabbed free popcorn and a long line stretched out for free hot dogs and hamburgers.
Mandsager though didn't witness the storm firsthand because he was out visiting his parents in New Hampshire. He was going to come home on Sunday, but he had to wait until the following day.
"We drove into town and we started to hear reports of what was happening in Schenectady and Schoharie and no one was obviously ready for what happened," he said. "That afternoon we just drove around … I remember driving to the end of [I-890] and it was just backed up for miles. The water was right up to the edge of the road."
After heading the coalition for 10 months, he said getting to know families and seeing effects of the flooding firsthand has given him a new understanding of disasters.
"When you see the news reports on TV … you have a whole new paradigm of what that means," he said, "especially with flooding, because water gets into everything and destroys everything it touches."
The main question he gets from residents now is what to do with vacant or abandoned properties strewn across the community.
Town of Rotterdam Supervisor Harry Buffardi said the town simply doesn't have the money to demolish homes. Former Supervisor Frank Del Gallo had said in October of last year there was $100,000 in the town's budget that could be used for demolishing homes. A buyback program was proposed as a way to help residents, but little has come of the idea.
"We have kind of tested the water on the buyback program and there hasn't been any political will to do that," Buffardi said. "The problem with that solution is that property goes off the tax rolls forever."
There is a lawsuit filed against the town by one family, which is suing the town for claiming accurate warning wasn't given to them, according to Buffardi. Also, several homeowners have filed a lawsuit against the state Canal Corporation.
Vote on this Story by clicking on the Icon