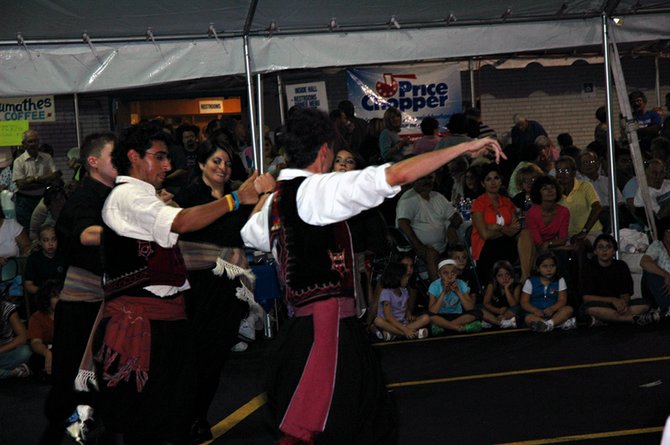 continued — Outside of the Hellenic Center is an outdoor barbecue area featuring even more food. There will also be thousands of Greek cookies and a bevy of pastries.
To serve up the wide offering of food also takes a lot of preparation and lot of ingredients.
"It is always amazing to me the amount of food they cook in that kitchen," festival spokeswoman Olga Delorey said. "Each year it seems to get bigger and bigger … we must be doing something right."
In the dinning room there are 4,300 dolmades, more than 2,000 pieces of spanakopita, 500 stuffed green peppers and 120 pounds of zucchini. The 45 large pans of moussaka and 30 large pans of pastitsio require 75 gallons of béchamel sauce, 200 pounds of ground beef and 200 pounds of eggplant. Also, 300 pounds of lamb shanks and 300 half chickens are used for dishes inside the center.
Outside, the barbecue area will see 450 pounds of chicken and 400 pounds of pork cooked for souvlak by the end of the festival. Four hundred pounds of beef is planned to be used to make gyros. Some of the dessert ingredients include 700 pounds of flour, 250 pounds of sugar, nearly 110 pounds of butter and 60 pounds of walnuts.
The festival is the biggest fundraiser for the church, accounting for about a third of its annual budget, Euripidou said. Though there are other ways to raise a similar amount of money for the church, Euripidou said parishioners continue to host the event to showcase their culture and bring the community together.
There are about 75 volunteers helping support the festival, with 10 organizers doing preliminary work. The two men leading the kitchen efforts are Chris Euripidou and Charlie Koines. Ten of the volunteers aren't even members of the church, but "come down and do that for the love of the festival," Evan Euripidou said.
Vote on this Story by clicking on the Icon