GUILDERLAND — Matt Henning might be the fourth striker listed on the Bethlehem soccer team's depth chart, but he played like a top-flight forward Friday.
Henning scored a first-half goal and assisted on Alex Kerker's tally late in the second half to help the Eagles (2-0-0) defeat Guilderland 4-1 in a Suburban Council South Division game.
Photo Gallery
Bethlehem vs. Guilderland photo gallery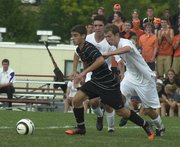 The Bethlehem boys soccer team defeated Guilderland 4-1 in a Sept. 6 Suburban Council South Division game. Photos by Rob Jonas
"It's tough to keep him off the field," Bethlehem coach Phil Ridgway said of Henning, who has come off the bench in each of the Eagles' first two games. "I've got four great strikers and only three (starting) spots. Whenever he comes in, he does well."
Guilderland (1-1-0) looked good in its season-opening 3-0 victory over Columbia Tuesday, but the Dutchmen came unglued against Bethlehem. Guilderland had trouble running its offense, and defensive lapses created several scoring chances for Bethlehem.
"This is the second game of the year, and to me these are extended tryouts," said Guilderland coach Mike Kinnally. "We had flashes today where we played adequately, but we're not where I want us to be."
Bethlehem's offense took some time to get in sync, too. The Eagles misfired on four shots before Henning scored with 17:20 left in the first half.
"We had a lot of opportunities and we tried to keep them composed, but as soon as they got ahead of the (Guilderland) defense, they got nervous," said Ridgway. "We missed three easy goals in the first 20 minutes."
Zach Stryker put Bethlehem ahead 2-0 when he scored less than six minutes into the second half. Ethan Strauss then slammed a shot off Guilderland goaltender Kedrick Weeden's fingers into the goal to make it a three-goal Eagles lead. Kerker tallied three minutes later off Henning's pass to make the score 4-0.
"I don't think we've ever scored four goals against Guilderland," said Ridgway. "They're a tough, physical defensive team. Those last two goals (aside), it really should have been a 2-0 game."
Connor Rubin ended Bethlehem's shutout bid when he scored with 1:46 left to get Guilderland on the scoreboard, but it was one of the few quality scoring chances the Dutchmen had. Eagles goaltender Alex Kessler made only a handful of saves, one of which was a leaping catch less than 15 minutes into the first half.
"I thought we had one solid (scoring) chance," said Kinnally. "The rest was all fluff."
Bethlehem plays its home opener Tuesday against Colonie, while Guilderland travels to Mohonasen.
Vote on this Story by clicking on the Icon