GUILDERLAND — The Guilderland girls cross country team ended a long drought at the Guilderland Invitational Saturday at Tawasentha Park.
Five runners placed in the top 10 to lead the Lady Dutch to its first large school division team title since the late 1990s.
Photo Gallery
Guilderland Invitational 2012 photo gallery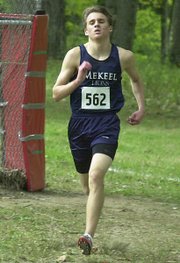 Highlights from the Sept. 8 Guilderland Invitational at Tawasentha Park. Photos by Rob Jonas
"It's pretty exciting," said Guilderland girls coach Dave Kosier. "We were nervous (coming in). We lost five good runners to graduation last year."
Sophomore Emily Burns -- making her cross country debut -- led Guilderland with a third-place finish. Burns covered the hilly 2.7-mile course in a time of 17:47.17.
"I was just trying to stay towards the front of the pack," said Burns, who switched from soccer to cross country for her fall sport.
"That's a huge boost picking up a top runner like Emily," said Kosier.
Burns' teammates weren't far behind. Jenna Robinson placed sixth with a time of 18:11.83, and Christina Herkenham passed Shenendehowa's Dominica Bleichert near the finish line to claim seventh place with a time of 18:14.15. Michelle Fish (ninth place, 18:21.98) and Taylor Tommell (10th, 18:23.07) rounded out Guilderland's top five.
"That was exciting because our top five all scored in the top 10," said Burns.
Guilderland finished with 31 points, eight points ahead of Shen. Thousand Islands from Canada placed third thanks to Emily Carmichael, who won the individual title with a time of 17:00.11.
Hopkinton (Mass.) won the girls small school division title with 47 points, 30 points ahead of runner-up Maple Hill. Berne-Knox-Westerlo's Courtney Tedeschi claimed her fifth consecutive Guilderland Invitational individual championship with a time of 16:51.98.
New York City's Collegiate High School won the boys large school division title with 54 points. Burnt Hills-Ballston Lake placed second with 91 points, followed by Shen in third place (125 points) and Guilderland in fourth place (134 points).
Mount Anthony Union's Marc Brandmyer took the large school division individual title with a time of 14:12.01. Columbia's Kyle Gronostaj (fourth place, 14:16.94) was the top Section II runner, and Matt Pasquali (16th, 15:29.03) led Guilderland's pack.
Maple Hill had the top team and the top individual in the boys small school division race. The Wildcats won the team title on a tiebreaker with Chatham after the two teams tied with 85 points. Maple Hill's sixth runner came in ahead of Chatham's sixth runner.
Jordan Healy led the Wildcats by winning the individual title with a time of 14:35.23. Chatham's Ross Wightman was second with a time of 14:47.77, and Mekeel Christian Academy's Jacob Urys placed third with a time of 14:51.87.
Vote on this Story by clicking on the Icon