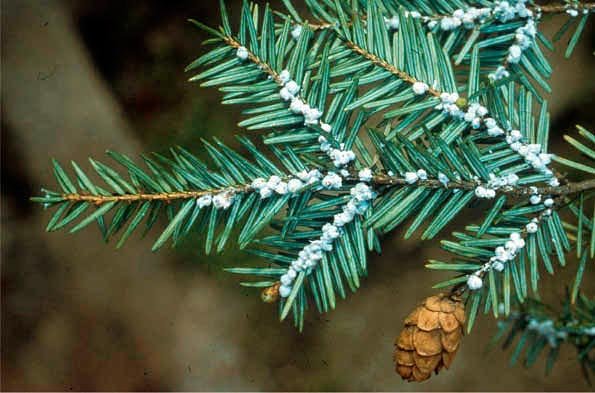 SCHENECTADY — An invasive species was confirmed as being spotted for the first time in Schenectady County on Monday, Aug. 20, by the state Department of Environmental Conservation.
A Schenectady homeowner reported a suspected infestation of Hemlock Woolly Adelgid to the USDA Forest Service and DEC Forest Health staff later confirmed it. Hemlock Woolly Adelgid (HWA) is a tiny insect from East Asia, which attacks forest and ornamental hemlock trees. It feeds on young twigs, causing needles to dry out and drop prematurely and branches to die. HWA infestations can be most noticeably detected by the small, white, woolly masses that are attached to the underside of the twig, near the base of the needles.
The invasive species was first discovered in New York in 1985. The invasive, exotic pest has been detected in 28 other counties across the state. Previously, it was found primarily in the lower Hudson Valley and more recently in the Finger Lakes region. Seventeen other states along the Appalachian Mountain range also have HWA infestations, from Maine to Georgia.
Hemlock decline and mortality typically occur within four to 10 years of infestation in the insect's northern range. Damage from the insect has led to widespread hemlock decline, high levels of hemlock mortality in forests and ecological damage as well as economic and aesthetic losses, according to the DEC.
Hemlock trees are among the oldest trees in the state, with some more than 700 years old.
The DEC Forest Health program conducts annual surveys for the invasive species funded by a federal grant. DEC officials suspect the new discovery is part of the species' natural movements.
DEC officials said there are several options for property owners to manage hemlocks infested with HWA, including:
reducing hemlock tree stress by watering during drought periods and pruning dead and dying limbs and branches
avoiding usage of nitrogen fertilizers that enhance HWA survival and reproduction
being cautious while moving plants, logs and mulch from infested to non-infested areas, particularly when HWA eggs and crawlers are present from March through June
moving bird feeders away from hemlocks and removing isolated infested trees
spraying hemlock foliage with properly labeled horticultural oils and insecticidal soaps on trees that are small enough to be saturated.
(Continued on Next Page)
Prev Next
Vote on this Story by clicking on the Icon