GLENVILLE — For some, Sept. 11 is day to pause in remembrance, but for one father it is a day he can never forget.
For six years, Steven Cafiero Sr. has read his emotional epic detailing the events of 9/11 at The Waters Edge Lighthouse's ceremony on the anniversary of the terrorist attacks that claimed nearly 3,000 lives. After 11 years of working on the poem, "9/11," with minor additions and tweaks, Cafiero said it is now complete.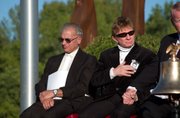 "It is a poem that was my therapy for many years," Cafiero said after the reading and before an impromptu "God Bless America" was sung. Over all the years, he said it continued to be therapeutic to write.
Cafiero lost his son, Steven Cafiero Jr., on 9/11. His son was on the 92nd floor of the south tower and had just started working at a new job — it was only his twelfth day. Cafiero wore a black and white picture of his son on his jacket over his heart, which was actually his badge to enter ground zero for the first year following the attack.
His son was scheduled to come home and visit him only three days after the attack, on Sept. 14, 2001.
"He was so excited about his new job. He said 'Can I come up this Labor Day Weekend?'" Cafiero said. "God works in mysterious ways."
He said it is "necessary" to read his poem every year at the event. Every year, he would reflect on the poem and go through his collection of newspapers and magazines detailing the attack. He wanted to make sure nothing was left out, with his poem telling the story of the day.
"This helps spread the word, in some small way, that we shall prevail," he said. "There is nothing more to say, it is there now. It took 11 years to write, right up to yesterday."
(Continued on Next Page)
Prev Next
Vote on this Story by clicking on the Icon