continued — This Sept. 11 was also even more difficult for Cafiero than usual, because he saw his doctor earlier in the day and was told he has to have an operation for a rare cancer.
Lawmakers invited to the ceremony also shared remarks and state Assemblyman James Tedisco, R-Glenville, said it is just as important today to remember what happened on 9/11.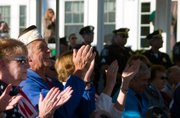 "In America, when you attack us, you attack freedom and liberty and they wanted to destroy America," Tedisco said. "They still want to destroy our way of life, but that news for them is they know in their hearts and their minds that they can hurt us, they can injure us, they can hurt us … but they can never destroy the efforts of the United States of America."
State Assemblyman George Amedore, R-Rotterdam, said even as crowds dwindle at memorials it is important to continue recognizing 9/11 not only as a day to remember loss, but also the great gains from a nation united.
"I want thank all of you, all of you for coming out this afternoon," Amedore said. "Ordinary people giving time on an extraordinary day; that is true patriotism."
County Legislator Angelo Santabarbara, D-Rotterdam, said the tragic events have only strengthened the nation and increased commitment to American values.
"Caring for one another, overcoming adversity and respecting individual freedom are at the core of the American experience," Santabarbara said. "From the daughter who cares for an elderly parent to those who rushed into burning towers on 9/11 — Americans care for one another."
Cafiero said the annual ceremony is important because it embodies the meaning of four words: "We will never forget."
Vote on this Story by clicking on the Icon