continued — The group's most recent initiative, started in 2008, has members making miniature quilts, which are donated to raise money for Alzheimer's research. The quilts are bid on www.alzquilts.org.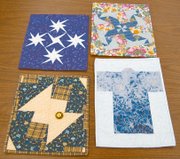 Gruyters, a Schenectady resident, said she got into quilting as a social outlet.
"I didn't know anyone, so I thought it would be a way to meet people by taking adult ed courses," she said. "One of the other featured quilters … Shirley Hedman, was the teacher."
"It is very relaxing, as if anyone would believe that, but as someone that likes this it is a very relaxing process," she added.
Quilt show co-chairwomen Nina Whitney and Kathy Wagner said the event is a good way to feature founding members as the group marks its 30th anniversary. Both quilters have been in the group for nine years.
The last show saw about 1,200 visitors, Wagner said. The show serves as the QUILT's primary fundraiser, with money going towards room rental costs, insurance and hiring speakers.
"I just like to see what other people have done and what techniques they use," Whitney said about the show.
For more information on the group and the upcoming quilt show, visit www.quiltschenectady.org.
Vote on this Story by clicking on the Icon