LATHAM — Hundreds of hungry, crab-loving customers waited outside for hours at the grand opening of Joe's Crab Shack on Monday, Sept. 10, in Latham.
The seafood shack stands at the location of the former Dakota Steakhouse at 579 Troy Schenectady Road. The Houston, Texas-based chain is the fourth location to open in New York State. The Latham eatery seats 294 guests and has a large patio, as well as a playground on the premises.
"It's a fun place with great food served by passionate people," General Manager Gary Tromblee said.
The fun began at 11 a.m., with anxious patrons lined up to enter the restaurant. Upon entering, customers were greeted with high fives from the servers.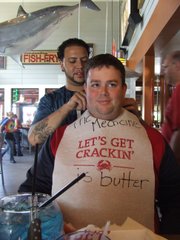 Tromblee said Joe's specialties are, naturally, anything that has to do with crabs, including Joe's Classic Steampot which has Dungeness crab, sweet Snow crab, boiled shrimp and smoked sausage.
Tromblee also emphasized the hands-on interactive experience Joe's offers. He said servers are there to help coach guests on how to properly eat crabs. The family-oriented location also offered something special for their grand opening: the first 100 patrons in line received a free bucket of crab each month for a year.
This bargain sparked more than hunger in some patrons. Kent Pugliese, 34, of Selkirk started waiting in line at 8:30 p.m. Sunday evening.
"We were worried if we didn't come the day before we wouldn't make it in," Pugliese said.
Pugliese and his two friends, who all write for their own food blog, crfoodies.com, slept on chairs in sleeping bags until the restaurant opened. The initial critique was positive.
"I love seafood. A couple of their steampots came highly recommended, as well as their spicier ones, which I love," Josie Donahue, 31, of Colonie said.
Joe's Crab Shack is also working with Share Our Strength's No Kid Hungry campaign throughout the entire month of September. For each donation ($1, $5 or $10), patrons receive either a free key lime pie, free order of crab nachos or a free classic steampot.
"It's a different flavor and atmosphere than the Capital Region has already," Pugliese said. "It's just a fun atmosphere."
Vote on this Story by clicking on the Icon